Your Health and Safety is Our Priority
How we keep you safe…
With the recent uptick of Coronavirus cases within our area, we wanted to reach out to our patients and inform you of what we have done, and are continuing to do, to ensure safety for all patients and staff. As always, our educated staff is happy to answer any questions or concerns.
Exceptional Infection Control
Along with universal precautions, our office is utilizing personal protective equipment (PPE) and infection control protocols that exceeds all of The Center for Disease Control and Prevention (CDC), American Dental Associations (ADA) and Occupational Safety and Health Administration guidelines.
With ZERO cases within our office or among staff, we are encouraged in our ability to maintain safety during these unprecedented times.
Safety Measures:
COVID Questionnaire
Required Face Mask
Patients required to call from the parking lot upon arrival to limit the number of patients in the office at a time
Temperature checks
Patients required to wash hands and use an anti-bacterial mouth rinse upon arrival
Social Distancing between patients
Staff surgical attire: Aramark Gowns, face mask, hair cover, safety glasses/ shield and gloves
Geneon Fogger System with hypochlorous acid
JADE and Cascade Surgically Clean Air Purification System
Zirc covered tubs
Sterile Technique

Instrument cassette sterilization
Surgically Clean Air and Geneon Fogger
Our office has a Cascade air purification system and each operatory has a JADE air purification system, which are among the most advanced and effective in the market. Cascade and JADE use high volume air flow and sophisticated filtration systems with six hepa carbon filters along with UV light to kill airborne pathogens.
In between patients, we mist each room with our GenEon Fogger system, containing Hypochlorous Acid solution (HOCl) to kill airborne and surface pathogens.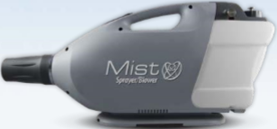 JADE & Cascade Air Scrubbers
JADE & Cascade Air Scrubbers
Medical grade: used in hospitals, medical labs and dental offices
Technology: purifies and reenergizes indoor air
Captures & kills: viruses, dust, volatile organic chemicals, mold, allergens, nitrous oxide, bio-aerosols, odors
GenEon Fogger System with Hypochlorous Acid Solution
Effective: Powerful disinfectant and sanitizer with no health risks
Safe and non-toxic
Proven to kill 99% of: bacterial, viral, and fungal human pathogens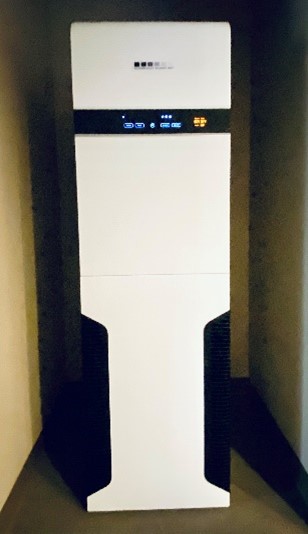 We utilize Zirc Locking Tubs, which are covered trays, to eliminate cross-contamination and achieve infection control from aerosols. Before a procedure, instruments are locked into a covered tray and kept in a sterile environment.